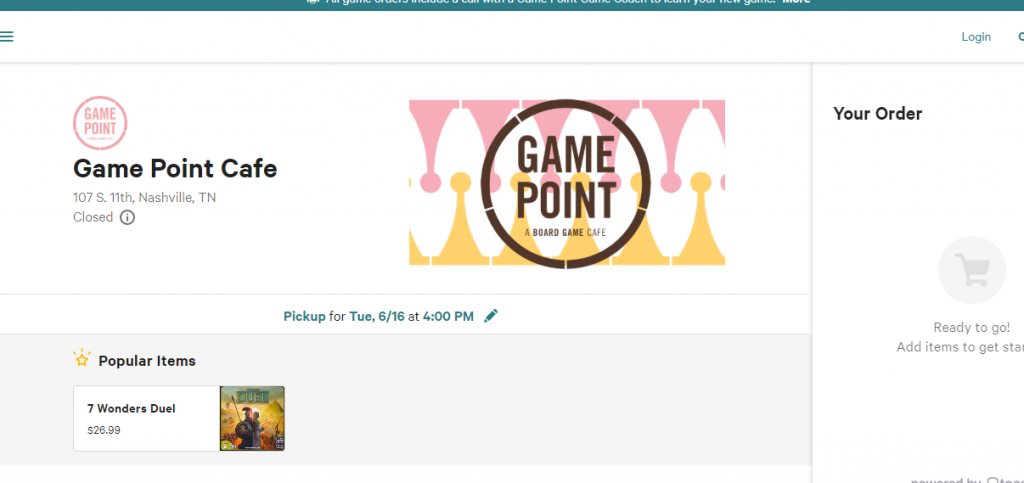 Shop Online with Curbside Pickup or Delivery
While we anxiously wait for when Game Point can safely reopen, we've set up a way to bring the Game Point experience to you. Follow this link to check out our online store! Once there, you can browse and purchase games from our retail selection, then either:
Pickup Curbside at Game Point from 4:30 pm – 6:30 pm on select days. First, order your game before 3:30 pm on Monday, Tuesday, Thursday or Friday. Then, come over to Game Point during the pick up window (again 4:30-6:30 pm), park in front and call 615-777-3278. We'll bring your game out to your car and put it in an open trunk or car window.
Get your game delivered on Wednesday or Saturday. Order your game before noon on those days and, for a small fee, we'll bring your game to you! We have a limited delivery area in Nashville's ubran core – when you enter your address in the ordering process, the site will let you know if we deliver to you. Sorry we don't have the staff capability for far reaching delivery.
Please be sure to use an accurate email and phone number when you order as we will use them to contact you with any problems. Also, although the cart will have you select an exact time, you can do your curbside pick up anytime in that evening's time window (delivery time is also not a guarantee and will be done after noon on the day ordered).
Looking for something specific? Email us at info@gamepointcafe.com and we'll see if we can secure it for you – at a significant discount off of MSRP!
For the true Game Point experience – all games include a call with a Game Point game coach to teach you your new game!

That's right, email us and we will set up a Zoom call, a Facetime chat, a Skype conference, a Google Hangout – whatever works for you! We'll get you up and running — almost like you were with us in person at Game Point!
For the health and safety of our employees and the community, we won't open Game Point back up until we can do so safely. With a small venue, that may still take some time. Hopefully this service can be useful to you until we get there!